Albert Einstein visited S'pore in 1922, met a 14-year-old boy named David Marshall
He was here on a fundraising mission.
By Henedick Chng |
December 11, 2016
Albert Einstein, famous for his E = mc 2 equation and his Special Theory of Relativity, embarked on a journey by steam ship from Germany to Japan in 1922.
His destination was Tokyo, where he would deliver a series of lectures. Mrs Einstein accompanied him on this voyage.
Along the way, he made a brief stopover in Singapore on Nov. 2, 1922, to raise funds for the building of the Hebrew University in Jerusalem, Israel.
In 1922, Singapore was a colonial territory under the British Straits Settlements. The governor of the day was Sir Laurence Guillemard, whose name lives on in the present day in Guillemard Road.
Yusof Ishak would have been 12, Benjamin Sheares, 15, Goh Keng Swee was four, S. Rajaratnam, seven, and Toh Chin Chye, 1. Lee Kuan Yew would only be born ten months later.
Approaching Singapore
On board the Japanese mail steamship Kitano Maru as it approached Singapore, Einstein recorded in his diary (translated by Hanoch Gutfreund), that the ship travelled past our southern islands:
Arrived in Singapore. [T]hrough narrow passages between small green islands.
As the ship approached Singapore very early in the morning, he would have seen a busy waterfront filled with boats, Collyer Quay and the buildings along it, including the old Alkaff Arcade, Union building (still under construction in 1922), and General Post and Exchange Building (present day Fullerton Building).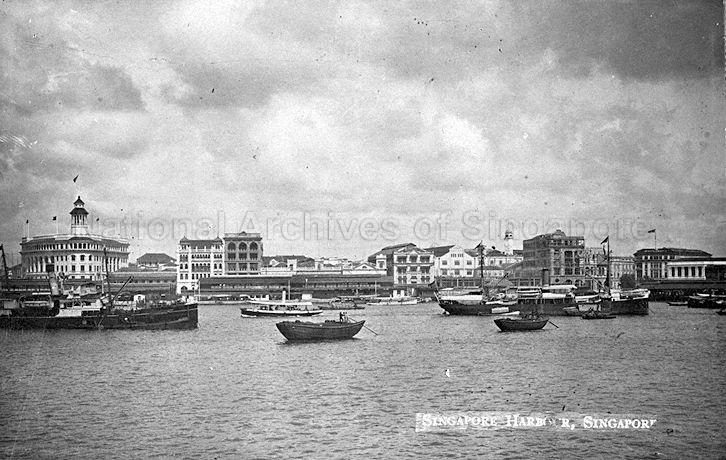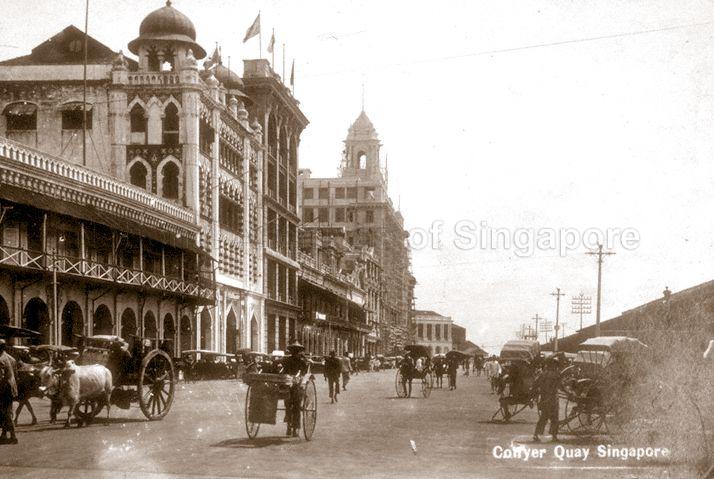 Einstein would have arrived via the old Johnston's Pier at Collyer Quay. The pier's distinctive red lantern beacons, possibly still lit from the preceding night, must have been striking.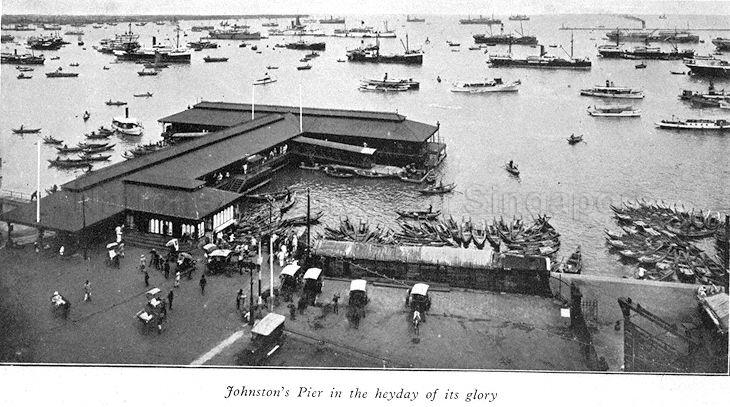 Arrival in Singapore
A large crowd of Singapore's Jews turned out to welcome Einstein at the pier. On his arrival in Singapore, Einstein recorded that:
There we were met and friendly greeted by Zionists.
An article in the Malaya Tribune dated Nov. 2, 1922, Einstein's arrival was a low-key one:
A group of interested people, witnessed the quiet arrival of Professor Einstein and Mrs Einstein in the Kitano Maru this morning.
The Straits Times (Nov. 2, 1922) noted that:
The great scientist and his wife were welcomed by leading members of the local Jewish community.
According to researcher Joan Bieder, the Einsteins spent the morning at the home of their hosts, Alfred Montor and his wife. Montor was a Jewish diamond merchant in Singapore who ran a business along High Street.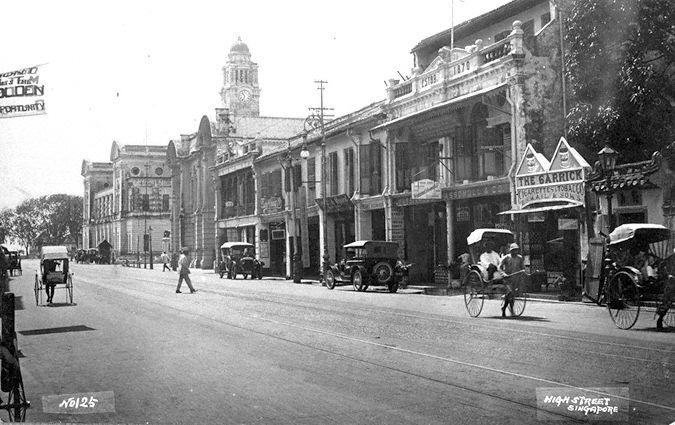 At Montor's home, Bieder says that Einstein was shown a decorated silver box containing a speech that Montor would deliver at a reception that afternoon, which had been planned for Einstein. Einstein recorded that the speech was:
…clever, but heavy in style, brewed, as painfully admitted by its author, with the help of the Conversations-Lexicon
Afternoon reception at Sir Menasseh Meyer's home
In the afternoon, Einstein headed to the home of Sir Menasseh Meyer to attend a reception specially thrown in Einstein's honour. Meyer, the richest Jew in Singapore, lived in a large house called Belle Vue at Oxley Rise.
Meyer, who was of Baghdadi origin, had made his fortune from opium and real estate. His vast wealth made him a key target in Einstein's fundraising efforts for the Hebrew University.
Einstein nicknamed Meyer "Croesus" after an ancient king known for his wealth. In his notes on Belle Vue, Einstein said the property was:
…like a palace, with Moorish charming halls. Located on the top of a hill with a view of the city and the sea.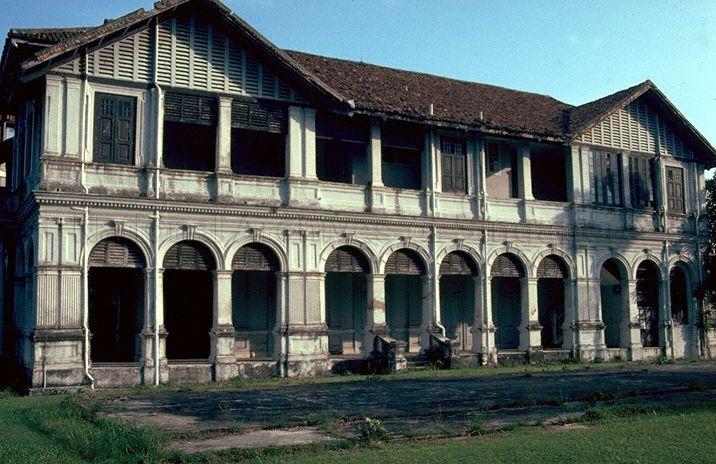 According to the Singapore Free Press' report on Nov. 3, 1922, the reception at Belle Vue was well-attended:
A large gathering of members of the Jewish community assembled at the reception held at the residence of Mr. Manasseh Meyer, at 3 Oxley Rise, yesterday afternoon, in order to meet the distinguished scientist and his wife. Among those present were the Bishop of Singapore, the Rt. Rev. C. J. Ferguson Davie, and Mrs. Davie.
The Straits Times (Nov. 3, 1922) also noted that, in addition to the Jewish community, there was a good mix of people from the various communities at the reception, which totalled around 200:
All communities and creeds were represented and among the guests were to be noticed the leading members of the Jewish community and the Bishop of Singapore and Mrs. Ferguson Davie.
Also present at the reception was a 14-year-old David Marshall, who would grow up to become a top criminal lawyer and the first Chief Minister of Singapore. Marshall dined with Einstein during the event.
The reception saw Einstein making a speech in German, which was translated by Montor. In his speech, Einstein stuck to his fundraising mission by arguing for the need to establish the Hebrew University in Israel. As translated and published by the Straits Times (Nov. 3, 1922), Einstein said:
If science is pre-eminent through its universal predomination, then one may ask "Why do we need a Jewish University?" Science is international but its success is based upon institutions which are owned by nations. If, therefore, we wish to promote culture, we have to combine and to organise institutions with our own power and means.
Either before or after the reception at Belle Vue, it was likely that Einstein visited the Chesed-El Synagogue located in the Oxley Rise area. The synagogue had been set up by Meyer. Einstein found it to be magnificent:
Directly below it (Belle Vue) is a magnificent synagogue which was actually built for the purpose of communication between Croesus (Meyer) and Jehovah.
Later that evening, Einstein returned to Montor's home where he had a "pompous meal in an open hall for about 80 people". He left Singapore the next day.
A week after his visit, Einstein got the Nobel Prize in Physics.
Einstein would stopover in Singapore again, a few months later in January 1923, for a brief visit while on his way to Palestine.
This time, he visited "a preserved jungle", had lunch with the Montors, and spent the evening touring the Frankels' plantation estate in Siglap, on which he remarked that the trees in there were "wonderful".
During his short time spent in Singapore, it was also likely that Einstein paid a visit to William Basapa's large estate at 549 Serangoon Road, where Basapa had started amassing a collection of animals that would later lead to the establishment of Punggol Zoo. Einstein called Basapa's estate "a wonderful zoological garden".
Related Articles:
7 things you didn't know about Jews in Singapore
Memoir reveals how Frankel Ave in Siglap was named after Jewish family that made a fortune in S'pore
S'pore's first zoo was not in Mandai. One of the earliest was started by an "Animal Man" who went around with a pet tiger.
If you like what you read, follow us on Facebook and Twitter to get the latest updates.
If you like what you read, follow us on Facebook and Twitter to get the latest updates.